0 items
$0.00
MORE THAN
40 YEARS EXPERIENCE
Call to Order 1-800-985-3074
Category
NTM Smart Flow Swiss Tool Holders, Type SCLCR
NTM Smart Flow Swiss Tool Holders, Type SCLCR
$150.00 - $160.00
BUY NOW
NTM Smart Flow Swiss Tool Holder

Type - SCLCR
Turning & Facing

Uses CCMT insert
Innovation speaks loudly and NTM has captured the leading edge of Swiss Tooling with our Patent Pending Smart Flow tool holder. This tool will not only deliver cutting oil to the tip of the insert, but will also direct a stream of oil towards the next tool station. This allows for fluid to be directed at an additional tool and keep chips out of the work zone.
As a part of our maintained inventory, NTM, Inc carries smart flow Swiss tools, with functionality as a tool holder in Swiss style machines. This indexable tool features OD turning and coolant thru fabrication for high performance, reduced heat, and improved chip removal. Even when inactive, coolant is still being applied to the chips on the tool.
Available insertstyles include 80° diamond, 55° diamond, and 35° diamond, with possible shank sizes of 1/2" and 5/8"
Quality and accuracy are ensured with our highly developed protocol of surface finish testing, hardness testing, and an integrated statistical process control and internal QC program
including material certifications. For more details about the
smart flow Swiss tools, please see the table below or call us directly.
Smart Flow Swiss Tool Capabilities:
Function
Tool Holder
Features
Coolant Thru
OD Turn
Indexable
Machines
Swiss Style
Insert Styles
80° Diamond
55° Diamond
35° Diamond
Shank Size
1/2 in
5/8 in
Inspection
Coordinate Measuring Machine (CMM)
Granite Plates
Testing
Surface Finish
Hardness
Quality Control
NTM Quality Control Program
Documentation
Material Certifications
Additional Services
Sawing
Grinding
Sandblasting
Laser Marking
Welding
Assembly
Outside Services
Coating
Painting
Production Volume
Low to High VolumeProduction
Additional Information:
Industry Focus
Defense
Aerospace
Medical
Automotive
Off-Road
Highway
Intended Applications
Cutting Tools
Stubby Tooling
V-Blocks
Industry Standards
ISO 9001:2008 Certified
Certified Supplier to BAE Systems
Certified Supplier to Alliant Tech Systems
Woman Owned Business
File Formats
SolidWorks
Virtual Gibbs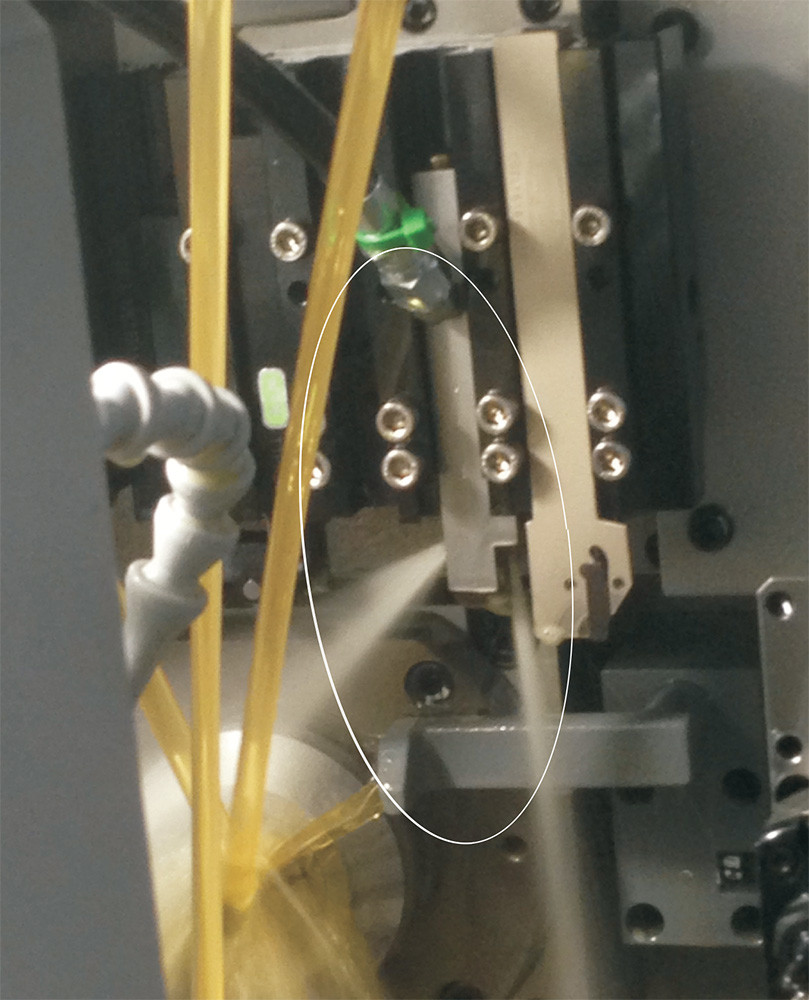 Be the first to write a review!!
Submit a review of this product
Light Tool Supply will not sell, trade, share or rent your email address.